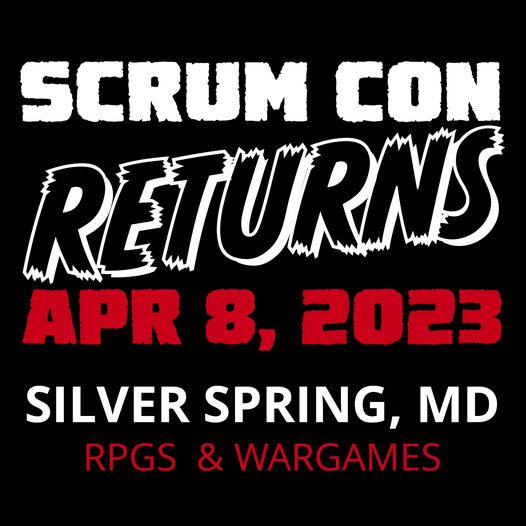 Just announced:
Scrum Con returns to in-person gaming on Saturday, April 8th, 2023!
It will again be held at the Silver Spring Civic Building in Silver Spring, MD, which was the site of the last in-person event, in late Feb 2020, just before the pandemic swept in.
Sign up for the newsletter at http://scrum-con.com so you don't miss any announcements about registration.
This will be the fourth Scrum Con overall, with in-person events in 2019 and 2020, and a virtual event in 2021. Clicking the Scrum Con label on this post should bring up most of my previous posts about Scrum Con.
As you can see in the ad, Scrum Con includes both RPGs and Wargames; the aim is a 50:50 ratio of each in a variety of genres. For an idea of what the games are like, see my 2020 Post-Op or this post on Scrum in Miniature with over 400 (!) photos.
I'm part of the group, Scrum Club, that organizes this event, and I plan to run my new Forgotten Smugglers' Cave D&D adventure.
Hope to see you there!
And please help us get the word out by sharing this with anyone who may be interested.