A recent thread over on Dragonsfoot asks: How many AD&D players who started in the 80s knew about OD&D?
Here is my answer, which I posted there, and have expanded a bit here:
My first D&D set, from 1982, was (obviously) Holmes Basic, and the rulebook includes a Preface stating that it is "based upon the original work published in 1974 and three supplementary books published in the two year period after the initial release of DUNGEONS & DRAGONS", and then reprints the "Foreword from the Original Edition", which starts with a brief yet evocative history lesson on the origins of D&D from Gygax that begins, "ONCE UPON A TIME, long, long ago..." And my copy, a 3rd edition printing, had a product listing on the back cover of "OTHER ITEMS FROM TSR" available for mail order, which included "Original Dungeons & Dragons Collector's Editions".

So I was aware of the original D&D rules basically as soon as I had my first rule set. I quickly moved onto AD&D from Holmes Basic, owning all of the hardcover rulebooks by mid-1983, but there again I encountered OD&D: my copies of the Monster Manual and the Players Handbook also have product listings that include OD&D.
I learned more about the early history once I started reading Dragon. In particular, the Best of Dragon #1 and #2 (which I found on the rack at B. Dalton in the local mall) reprint a number of articles from the early, OD&D years, including "Gary Gygax on D&D: Origins of the Game" (in BoD #1).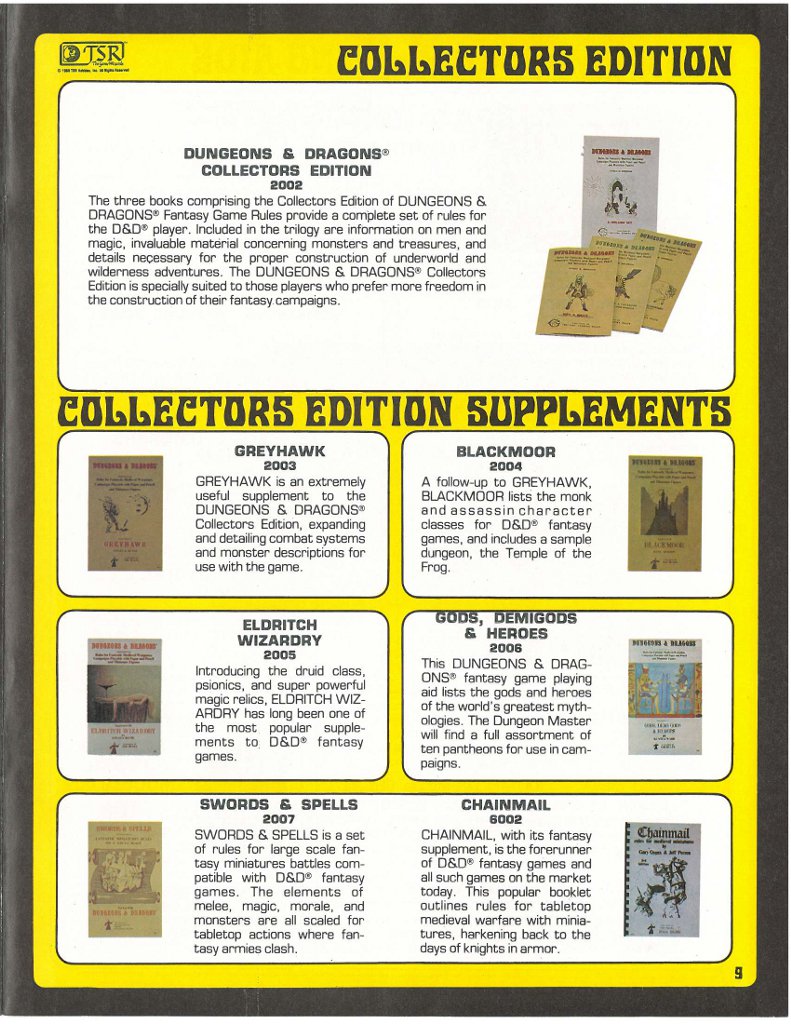 At some point I found a copy of Moldvay Basic at a Goodwill thrift store. This set included a copy of one version of TSR's Gateway to Adventure catalog, which had a page for the "Collectors Edition" which showed the OD&D set and supplements. This was the first place that I actually saw what the OD&D booklets looked like, other than Eldritch Wizardry, which I had once spotted at B. Dalton.
Still later in the '80s, I came across a still new-on-the-shelf copy of the Original Collector's Edition (OCE) of Whitebox OD&D at a game shop and bought it, which I still have. I was actually somewhat surprised that the rules were so similar to what I was familiar with - I was expecting more differences. In the next year or two after that I ordered Chainmail and the Blackmoor supplement directly from TSR's Mail Order Hobby Shop, which was still selling copies through '89 or so, although the copy of Blackmoor I received from them was essentially a high grade photocopy.